Partnership Manager - Native English
Bondgenotenlaan 138, 3000 Leuven, België
---
Who is Phished?
Phished is the frontrunner concerning smart cyber awareness solutions.
We offer organizations the most thorough and intelligent training software to ensure our optimal contribution to a safer internet. By linking our fully automated solution to personalized and realistic simulations of cyber-attacks, Phished teaches employees to deal with real online dangers in a correct manner. It is our ambition to be the most trusted partner: for businesses regarding their employees, and for employees in their home.
In three years' time we managed to phish users from all over the world… and to train them simultaneously. To support our rapid growth even further, we are looking for an ambitious bridge builder, able to help Phished grow her portfolio.
What your job entails
Your responsibilities:
As a Partnership Manager, you will search for new partners to expand the Phished ecosystem and maintain relationships with our current partners.
You support our partners in their individual sales approach and also guide them in their communication to their end users.
You provide training to our partners so that they know our platform inside out.
You are an ambassador in a double role: as a representative of Phished, you always get the most out of it, while internally you are also the spokesperson for our partners and advocate their interests to the best of your ability.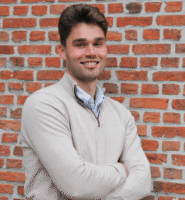 Tom D'Hoore - Sales
Partnership Manager
MSPs are easily convinced of the added value Phished brings to their offering. It ensures a healthy partnership that allows us to overcome obstacles together while building a durable relationship.

Must-haves
Crucial is your mentality as an entrepreneurial, driven worker who always puts the customer first and the will to keep learning.
You have an excellent knowledge of English and you can express yourself fluently in Dutch or French.
You already have your first work experience, preferably in an account management-oriented role.
You quickly build strong relationships and you feel at home in different sectors: your communication skills are excellent.
Experience with CRM systems is a clear added value.
You are a team player and know how to set clear limits.
You are stress resistant and can handle confidential information.
You have a 'getting things done' mentality.
An administrative and organisational powerhouse!
A strong personality who thinks in terms of solutions and is customer-oriented.
What's in it for you?
You work at your own professional progress, based on your vision and wishes. You will have the chance to develop your own personal roadmap and develop your own learning track.
Work alongside a driven sales team that will help you further hone your skills.
Personally develop within an entrepreneurial scale-up with a no-nonsense culture.
You will receive an attractive salary, commission, and a Flex Income Plan tailored to your needs: a set of extra-legal benefits that you can set up as you see fit.
Also in your plan: collectivized insurance, hospitalization insurance, internet, smartphone, mobile subscription, and a car.
Hybrid working is a given and tailored to our employees. Our office lies in the bubbling heart of Leuven, close to the train station.
Interested in this vacancy?
---